YOUR HOME EXTERIOR, EXPLAINED.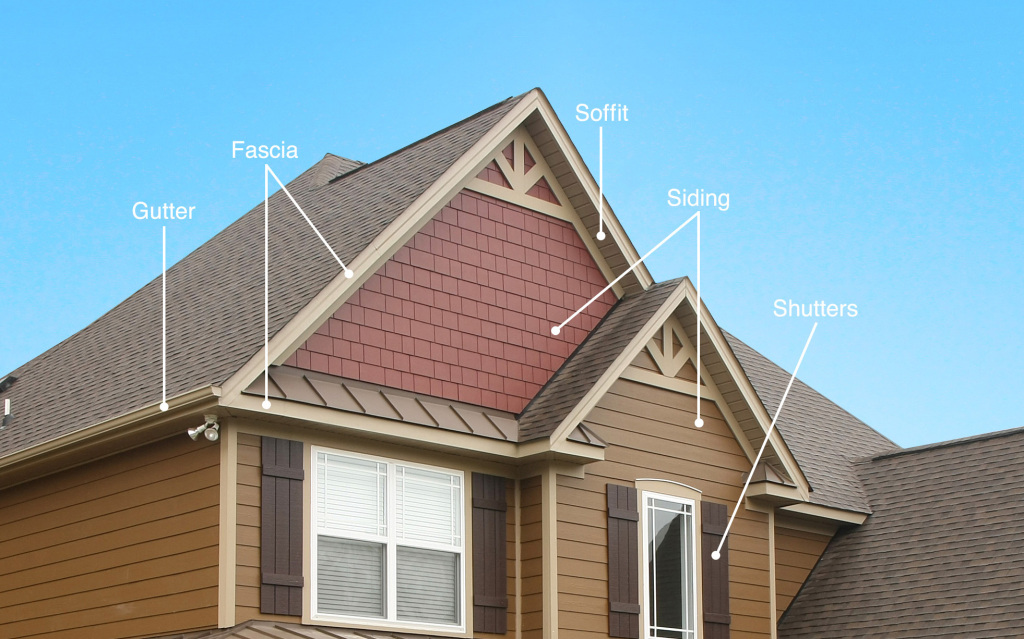 Here's a quick run-down of the different parts of your home exterior. The soffit is the bottom part of the area where your roof overhangs the exterior wall of your house. Most people have between one and three feet over overhang on their house. The soffits on the gutter edge of your home should be be partially vented to allow air to circulate through your attic and out your roof vents. The fascia is the "face" of the overhang. It's what the gutters are nailed to. The siding is the material that nailed to the exterior walls of the house. Siding can be made out of wood, cement, vinyl, and or other materials, but they all fall under the siding category. Lastly, the shutters go beside the windows.  They're mainly for looks, but you can still buy shutters that open and close.
---
Soffit panels
Soffit panels help make your home comfortable by venting moisture and moderating temperature extremes. Offered in a variety of styles, these panels will provide a clean, finished look to the underside of your eaves.
Superior design with protection in mind
Engineered to eliminate sagging and nail facing while keeping a classic appearance
Excellent ventilation, no matter your taste
Perforated ventilation panels offer maximum airflow efficiency
High-grade aluminum cuts down on maintenance
In contrast with traditional wood soffit, aluminum provides a low-maintenance yet still stylish alternative.
Fascia Wrap
Fascia wrap provides stylish, low-maintenance protection for your wood fascia boards. We install aluminum fascia wrap in a variety of finishes to match any style for years to come.
Protection for your home in style
Corrosive-resistant materials help your home hold up to all sorts of weather
Pre-bent or custom-bent options fit your home
Trim is bent in the factory or the field to ensure a perfect fit
Low-maintenance aluminum is made to last
20-year manufacturer's warranty against fading or peeling provides peace of mind and enduring curb appeal